Home
Download
Help
Contact
OnkyoControl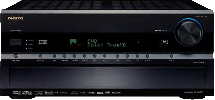 OnkyoControl lets you control almost all functions on your Onkyo receiver from a Windows PC. It requires a RS232 serial connection between the PC and the receiver. If you own an Onkyo TX-NR906 receiver, it is also possible to connect to the receiver using a Ethernet connection between the receiver and pc instead of the RS232 serial connection.

OnkyoControl can be used with the following Onkyo receivers:
Onkyo TX-SR705* / Onkyo TX-SR706*
Onkyo TX-SR805* / Onkyo TX-SR806*
Onkyo TX-SR875* / Onkyo TX-SR876
Onkyo TX-NR905* / Onkyo TX-NR906*
(* = Has not yet been tested. If you use OnkyoControl with one of the untested receiver models in your setup, please feel free to contact me, and tell me if it works or not.)

When using OnkyoControl, you will not only be able to control your receiver, but you will also be able to see all information of the current state of the receiver, like volume level, listening mode, selected source etc. In this way, it is possible to operate the receiver from the PC without having visible contact to the receiver. Also, it is possible to easily operate the zone 2 and 3 features, in the same way as it is done with the main zone.

Examples of usage could be:
A home theatre setup with HTPC, where all hardware is hidden in a closed cabinet or a separate room, and the only accessible interface is the HTPC's
An extra set of speakers is connected to zone 2 or 3, and the speakers are installed in a room where a pc also is located. The zone speakers can then be controlled from the PC.
The receiver and the speakers are used as PC speakers, and you want to control the volume level directly on the receiver, instead of on the soundcard output.
Download
OnkyoControl is free to use, and can be downloaded from the following location:
Download
Help
Help using and setting up the program can be found here:
Help
Contact
If you are having problems with OnkyoControl or just comments, you can contact me here:
Contact